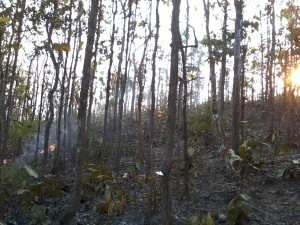 It's not like I run a website that's designed to let people know when and where the runs are… Yet somehow I managed to set off from home after the run had already started… With Matty fresh out of hospital I was released from parental obligations and for some reason thought I could still get to the run – Even as I arrived and threw my keys in the general direction of Lung La, I figured I was 6 minutes late and it wouldn't take long to catch back up with everyone… It seems I made a massive misjudgment – fortunately I got the right day, but I was 36 minutes late setting off and I suspect I just missed the first running getting back in…
Still having not done any exercise for over a week, it was good to get the legs moving, and I was about 1.5km in before I realised my efforts were futile, beyond getting some exercise before the beers. And so I did! It was an interesting experience following the checks that had been "kicked out" and getting a feel for how confusing it must be for the DFLs trying to figure out what to do. I came across pristine circles, and at least one had a beautiful pile of small paper, lovingly cut into squares by our committed hares, and placed under a small stone for protection. Our hares had dreamed of a time when those pieces of paper would be released and allowed to spread their message through the nearby countryside to guide lost hashers. Sadly Mr Poo couldn't be bothered, so even half an hour off the front of the pack I found myself searching for trail – which is a whole lot harder when alone!
Heading towards the hills, the earth was scorched – I sniffed and realised that Brown Finger had been through here, running so fast he'd literally set the trail on fire – not figuratively. The trail paper was burning as I leapt (lept / leaped) over smoldering ashes until I hit the remains of a circle on fire. The flames appeared to be pointing in a direction away from where I knew the beer would be sat waiting (and by now cold), so I bailed out and cut back towards the A bucket. More fires to navigate before I was safely back on the out trail, and back at the bucket.
We sat, we drank, we sat, we drank, and then someone pointed out that perhaps Humperdick should start the circle. Reluctantly we got going, with RA Mr. Poo drafted in to co-ordinate things and to my mind it was a good circle.

And here's what Graven did…

19th February - CH4 - Humperdick

,